SDR Radio Spectrum Analysis
---

Our Software Defined Radio Insight application performs radio spectrum analysis across the full range of the hardware from 24MHz through 1.75GHz. It also allows you to directly interact with any participating device to get more information from it in real time.
You can see the Horizon "Radio Spectrum Analysis" Proof of Concept application in the Horizon Unified Map, here:
You should see something like this: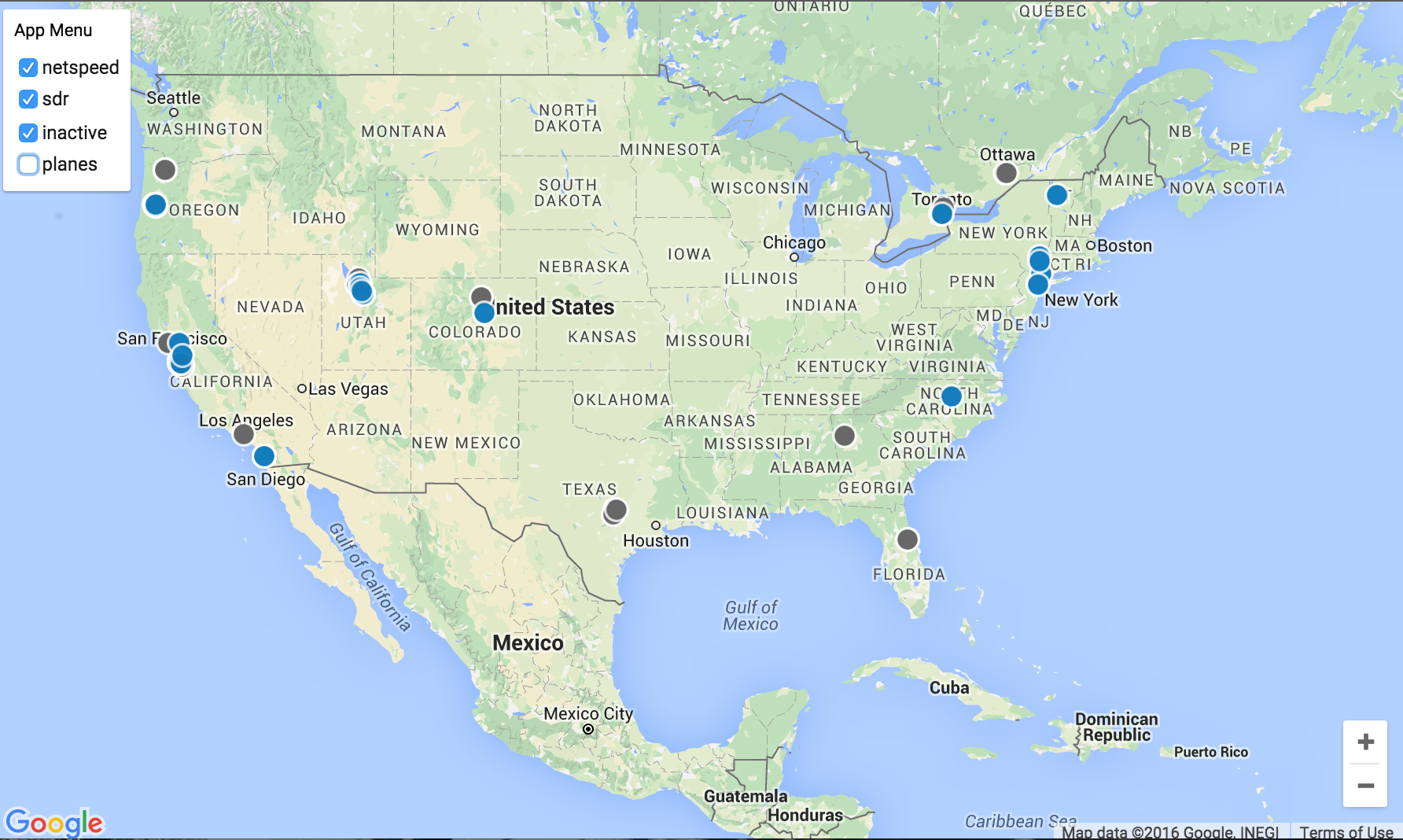 On that global map you will see blue and gray dots for each device participating in one of Horizon's Insight applications. Blue dots represent devices on Horizon that have recently sent data. Gray dots represent devices that have sent data at some previous time. (Gray dots represent inactive devices which may be permanently shut down, or perhaps are just temporarily severed from their network connections.) Note also that the top left menu allows you to select only dots that are participating in specific Horizon experiments. You may also select whether or not to show inactive dots, and whether or not to show live aircraft tracking on the map.
Horizon Device Map
Shows devices on Horizon (active and recently active)

Blue: Active devices
Gray: Devices that have recently become inactive

Shows experiments active under contract on devices

Hover over a device dot: See the number of contracts running on a device
Click on a device dot: Show active experiments running on a device
Click on an experiment icon: Go to the experiment page for that device
If you have a device on Horizon then drag and zoom the Google Map to find your blue dot. Select the dot for your device (or any blue dot) and you should see a translucent circle appear around the dot, as shown in the example below. The blue dot shown below San Jose on the map in this screen capture has been tapped and the translucent selection circle is now showing.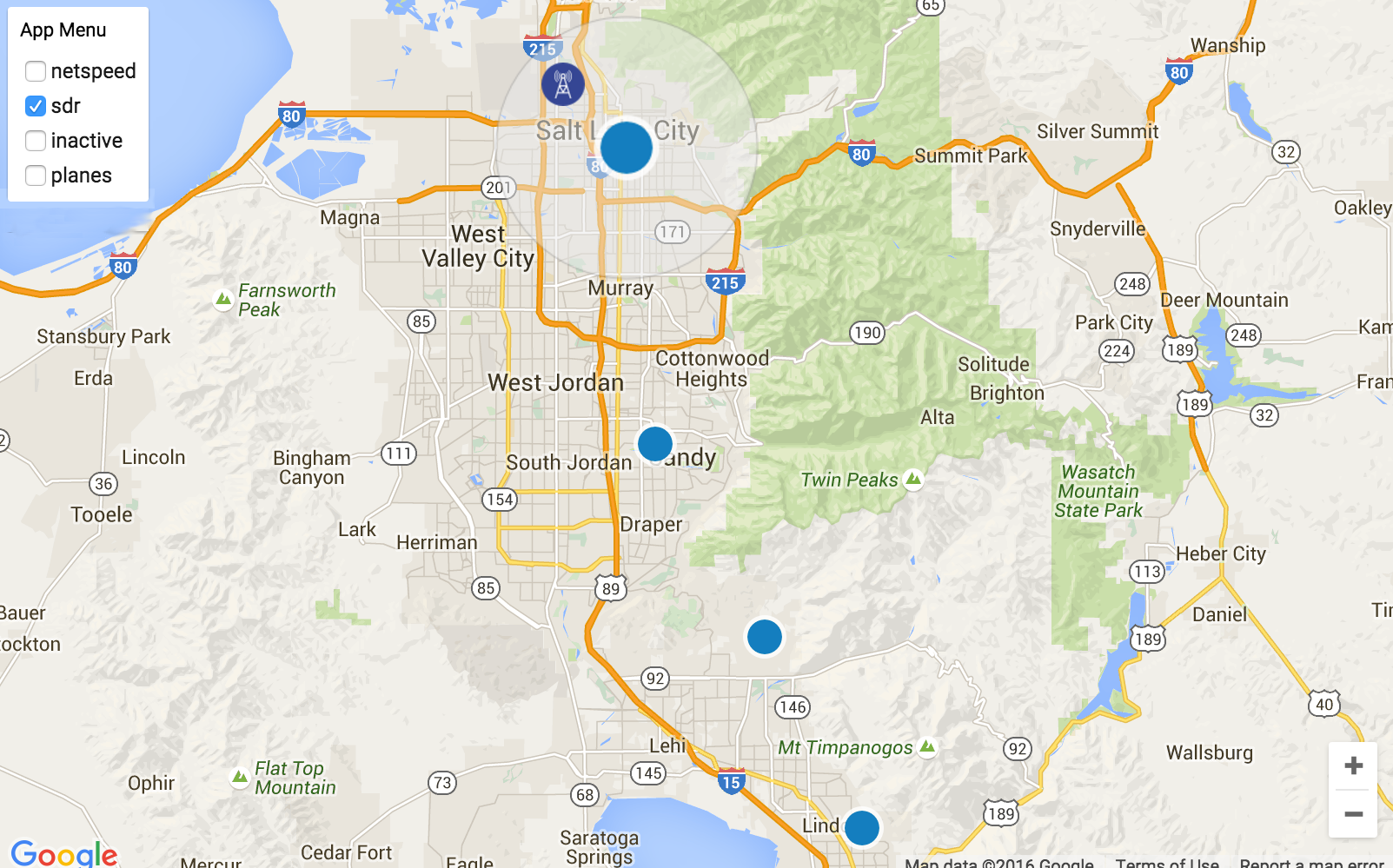 In the translucent selection circle you will see one or more Insight icons. In the example above only the Software Defined Radio icon (the radio tower) is showing, indicating that this device is only participating in SDR Insights.
To access the Radio Spectrum Analysis UI for the selected device, tap the Software Defined Radio icon and you will be taken to a page similar to the one shown below.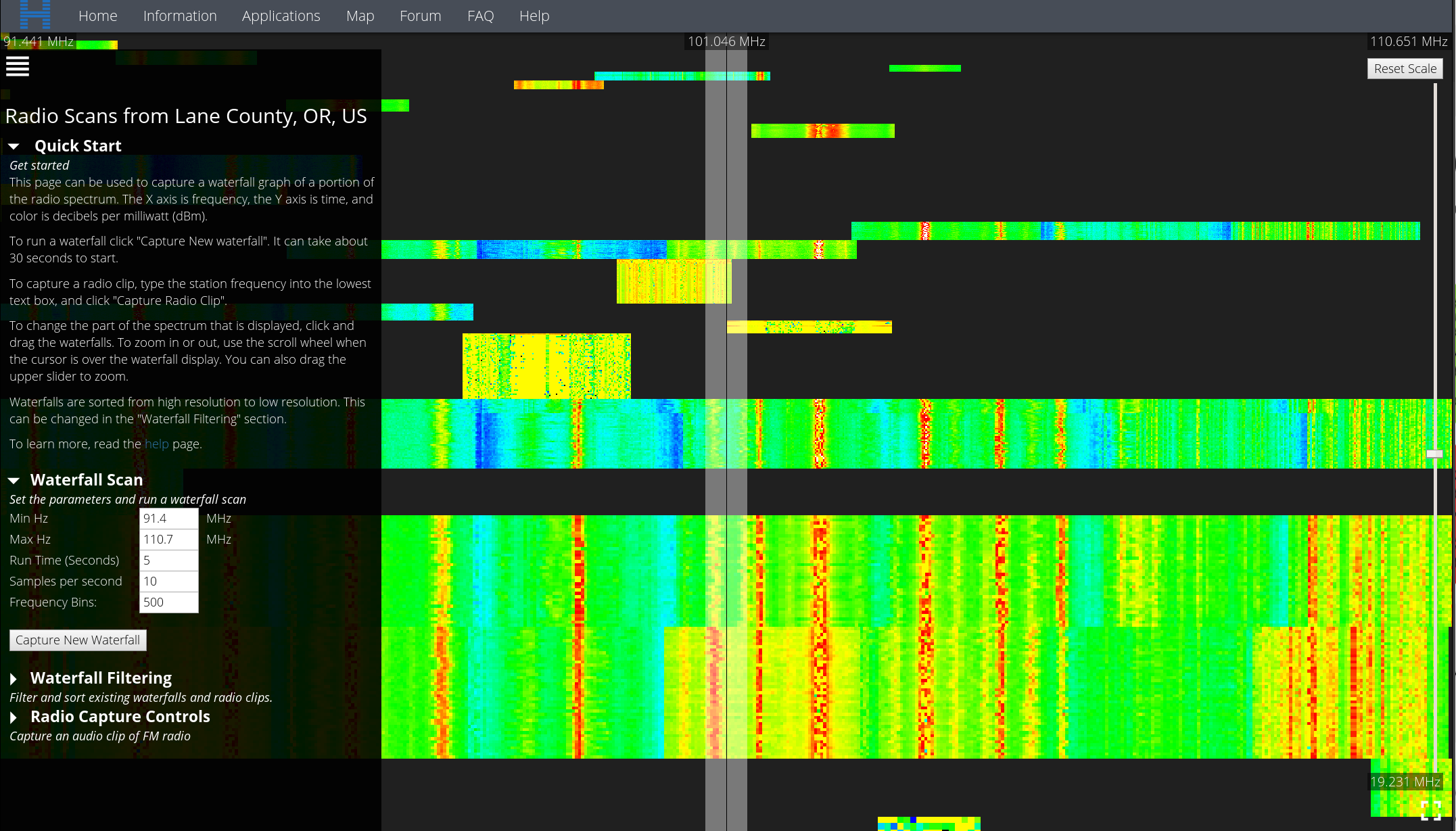 When you first arrive at the SDR page above you will see a colorful sample radio spectrum waterfall diagram showing data recently collected on this device for the full radio frequency range available and accessible by the local hardware device, typically in the range of 24 MHz to 1.7GHz.
To capture a waterfall spectrum scan:
Set min & max frequency values (Hz)
Set scan run time (seconds)
Set number of samples per second (greater number indicates more detail)
Set number of frequency bins (greater number indicates more detail)
Click "Capture New Waterfall"
Signal strength at each frequency in the spectrum is indicated with a typical heatmap scale with warmer colors indicating stronger signals and colder colors indicating low to zero signal strength. To capture a waterfall frequency scan, define a frequency range of interest and make any other adjustments as desired. Tap the "Start Waterfall" button and a workload will be scheduled by Horizon to run on the device. A short while later you will see the waterfall data being sent to your browser as shown in the screen capture below.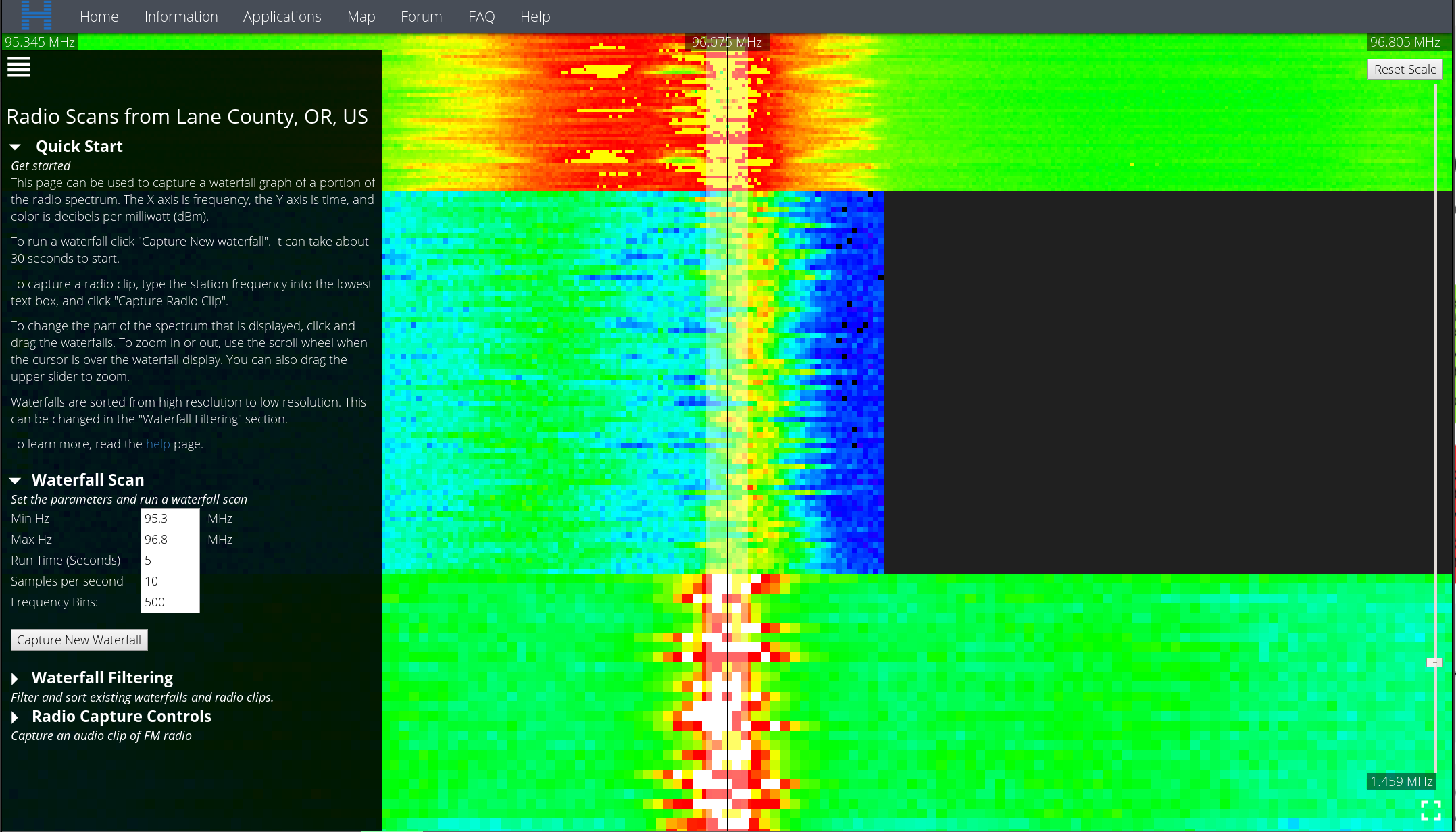 The above waterfall scans show signal strength in a portion of the FM radio band near the frequency of a local FM radio station. You may now use the slider below the waterfall to select the radio station, and and capture a radio clip at that frequency.
To capture radio clips:
Set the capture frequency (using the slider or by typing in the text field as shown below)

Click "Capture Audio Clip"
The audio capture routine sends a request to the edge device via Horizon to capture a short audio clip from that frequency and return it to your browser for listening. When the clip has been captured you will see a typical audio play interface as shown in the image below. Click the triangular play button to listen to this remote radio station in your browser.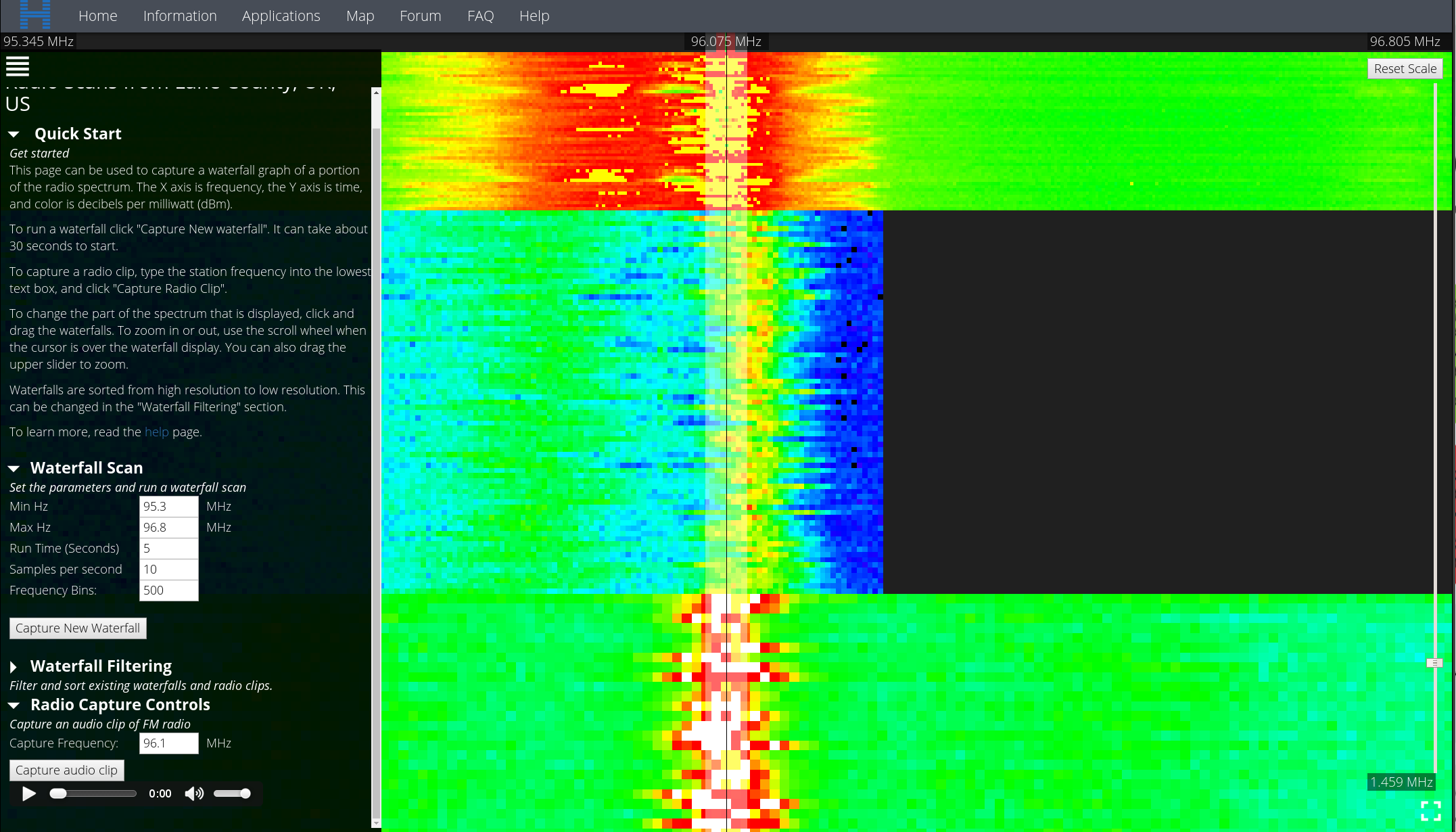 A video demonstrating how the SDR UI can be used to explore the electromagnetic spectrum:
The Horizon Radio Spectrum Analysis PoC is designed with a centralized web server where the data is aggregated and served as a Google map page, and many individual edge devices that both have the appropriate Software Defined Radio (SDR) hardware and are running the Horizon Spectrum Analysis code (in a Docker container). Horizon Spectrum Analysis is a little different from the preceding Insight in that is also enables control of the remote device from the cloud. As you will have seen above, by making selections on the detail page presented by the server, you can request the remote device to take particular actions (e.g., computing a new waterfall display, or capturing an audio clip in real-time from a specific radio frequency). Horizon Spectrum Analysis components, how SDR works on Horizon, is illustrated in the diagram below: